October 6th, 2010 | by Ray Flowers |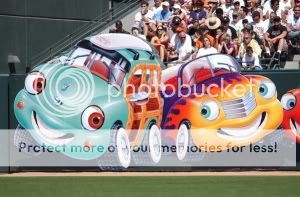 Prior to the completion of the 2010 regular season, I gave a quick run down of the main candidates for the major baseball awards in Early Award Returns. Never one to rest with a cursory look into any topic, I thought it would be a worthwhile venture to explore each of the major awards in a more in-depth manner. With that, here are my thoughts on the 2010 AL MVP.
To see the previous articles in the series click on the following link:
NL Cy Young
Tim Hudson: The Braves' ace was 15-5 with a 2.24 ERA on August 28th and he was steamrolling his way through batters on the way to the best season of his career. You can still make the argument that this was his finest season, but his last seven starts will leave a bitter taste in his, and the voters, mouths (2-4 with a 5.32 ERA an a 1.39 WHIP). Hudson finished the year with a career best 2.83 ERA that was 6th in the NL, and his 1.15 WHIP was his best mark since 2003 when he had a career best 1.08 mark. Hudson also struck out 139 batters, a 4-year high, though it was a total that was one less than Cubs' closer Carlos Marmol (138).
Ubaldo Jimenez: At the break he looked like a shoo-in for the award with his 15-1 record and 2.20 ERA. In the second half though he reverted from the all-world ace he was early in the year to being the solid pitcher he has been for a couple of seasons as he had a 3.80 ERA, 1.30 WHIP and 101 Ks in 94.2 innings. However, he was able to win only four games against seven loses, and I bet that "failure" to win games will doom him in the eyes of most voters even though it really shouldn't. Ubaldo was still third in the league with 19 victories and 214 Ks, while his 2.88 ERA was 8th and his 1.15 WHIP tied for 8th. He also permitted a mere .209 BAA, the second best mark in the league to Jonathan Sanchez (.204).
Josh Johnson: Some might have forgotten this fact, but Josh Johnson led the NL in ERA with a 2.30 mark. As late as August 12th his ERA was 1.97, though the final five starts of his season saw that number rise to it's resting point. Johnson's season ended prematurely because of a back/shoulder issue, an as a result he threw just 183.2 innings. You had better be pretty damn special if you think you deserve the Cy Young Award with less than 185 innings pitched, and that task becomes impossible when you put up only 11 victories as Johnson did. Still, the guy led the league in ERA, had more than a K per inning (186) and finished the campaign with a WHIP of 1.11, 7th in the NL.
Mat Latos: The Padres youngster would have had a shot at finishing much higher in the final vote if he hadn't hit the skids in the month of September when over five starts his ERA went from 2.21 to 2.92. Still, for a pitcher in his first complete big league season, Latos was tremendous. He was 10th in ERA, and 11th in strikeouts (189), while he was sixth in WHIP (1.08) and 5th in BAA. He also had the most consistently excellent 15 game run a pitcher ever had which you can read about in my By The Numbers piece.
As great as those four were, this is a two-horse race between Adam Wainwright and Roy Halladay. It's amazing how close the two were this season.
R.Halladay: 21-10, 2.44 ERA, 219 Ks, 1.04 WHIP
Wainwright: 20-11, 2.42 ERA, 213 Ks, 1.05 WHIP
That's pretty amazing, the closeness of the numbers, is it not? Here are some more.
R.Halladay: 7.86 K/9, 1.08 BB/9, 7.30 K/BB, 0.86 HR/9, 1.72 GB/FB
Wainwright: 8.32 K/9, 2.19 BB/9, 3.80 K/BB, 0.59 HR/9, 1.68 GB/FB
Halladay is inching ahead herem but its still insanely close. I bet the caper will be the final three numbers listed next.
R.Halladay: 250.2 IP, nine complete games, four shutouts
Wainwright: 230.1 IP, five complete games, two shutouts
As great as Wainwright was, Halladay was just a little bit better, so no one should complain when he takes home the hardware.
6- Tim Hudson
5- Josh Johnson
4- Mat Latos
3- Ubaldo Jimenez
2- Adam Wainwright
1- Roy Halladay
By Ray Flowers
Tags: Adam Wainwright, Josh Johnson, Mat Latos, NL Cy Young, Roy Halladay, Tim Hudson, Ubaldo Jimenez