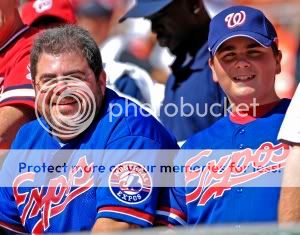 On Sunday Andre Dawson was officially inducted into the Hall of Fame. An eight time All-Star who is one of only three men in big league history to hit 400 homers while also stealing at least 300 bases (Barry Bonds and Willie Mays are the others), Dawson also has one of the worst OBP (.323) of any player in the Hall of Fame. In fact, it's the worst mark of any outfielder enshrined at Cooperstown, .020 points below the .343 mark of Lou Brock. Should Dawson have been elected to the HOF? I tackled that very question in The Case of Andre Dawson. If that piece doesn't cause you some pause about whether or not the athletic outfielder should have been enshrined, perhaps Dawson vs. Alomar will prove to you, once an for all, that not only does Roberto Alomar deserve to be in the Hall of Fame but that Dawson's credentials might be a little thin.
I actually wrote up a series of piece on players who were eligible for induction into the Hall of Fame this year, and here are those links:
Edgar Martinez – Is there Room for a DH?
HOF: Tim Raines.
Is McGriff Hall Worthy?
HOF: Mammoth McGwire Misunderstood?
HOF: Who Am I?
Any here are my final thoughts where I discussed the 2010 voting results.
Has anyone pointed you toward one of the best sites on the internet? No, I'm not talking about something that has porn in it, you certainly already have your favorites bookmarked for your adult entertainment, or BaseballGuys.com (since you've already found it), I'm referring to Rumorzone.com. It's a collaborative effort from Fanball.com, and we're tracking all the latest rumors in the world of sports for the four major sports at that location (MLB, NFL, NBA and NHL). Don't forget to bookmark it.
Ubaldo Jimenez is awful. There, I said it, and don't for a second try and tell me you weren't thinking the same thing. On June 7th, a mere eight starts ago, Ubaldo had a 0.93 ERA. Heck, on June 18th it was still 1.15. However, the past six outings haven't looked anything like his first 14 trips to the hill. Here are the numbers:
7.64 ERA, 1.52 WHIP, 8.73 K/9, 5.18 BB/9, 1.68 K/BB
The ERA is horrific, the WHIP is terrible, and that walk rate is godawful leading to a decidedly sub par K/BB mark that is well below the big league average of 2.10.
So what happened? It's called regression people, ever heard of it? Did you really drink so much of that Ubaldo Cool Aid that you actually thought he was going to challenge Bob Gibson's NL ERA mark of 1.12? Come on now. Did you think he was gonna keep his ERA under 2.00 all year long? I got news for you, that's only happened twice in baseball since the 21st century began (Pedro Martinez had a 1.74 mark in 2000 and Roger Clemens posted a 1.87 mark in 2005). Again, you kid right?
The truth is that Ubaldo is simply returning to the level of "dominance" instead of the "historic" pace that he flashed early on. He still has a 2.75 ERA, his WHIP is just 1.12, he has nearly a K per inning (120 in 134.1) and he is still 15-2. How rare is that combination? If he maintains that pace for 34 starts this season we'd be looking at something like 25 wins, 200 Ks and a 2.75 ERA. How many pitchers have reached all three of those levels since 2000? It's a small group of — zero. If we go back to 1990 there still isn't one member of the group. How about 1980? Still none. You have to go all the way back to to Ron Guidry in 1978 to find a pitcher who reach all three milestones (25-3, 1.74 ERA, 248 Ks).
The bottom line with Ubaldo is that you should cut the guy some slack. Still, I hope you listened when I suggested you sell high on the flamethrower from Colorado because that window for peak value in a trade has been closed completely.
By Ray Flowers